In Memoriam
Kim Castellano
My dear walkers and runners,
Recently, we were informed of a fallen Warrior right here at home.  Joanne reached out to us and asked if we could pass out ribbons in memory of her friend Kim Castellano. Walk 4 Mountains is honored to wear Kim's ribbon with us on our journey on Saturday.  Please join us and pin one of these special ribbons on your shirt to remember one of our fallen, but surely not forgotten.  Our prayers go out to Kim's family and friends. May God bless you and give you strength every day to enjoy the wonderful memories she gave to you in her life.
A note from her friend Joanne:
These ribbons were made with love by the Woodgrove High School Freshman Volleyball team and the special education classes at Woodgrove and Valley High Schools to remember Kim Castellano who we lost to breast cancer on January 28, 2018.
Kim was a perfect wife to Mike (his words) and an amazing mother to Ben and Riley. Kim was one of the kindest, funniest, happiest people anyone could ever hope to know.  She was always full of life and love and laughter.  She lit up every room she entered and never left without giving everyone in it a hug.
Friends and family that knew her well referred to her as a warrior as through three battles with breast cancer she never lost her hope or her will to fight.   And they know that today she will be smiling down on everyone walking, giving them that little push they need to cross the finish line.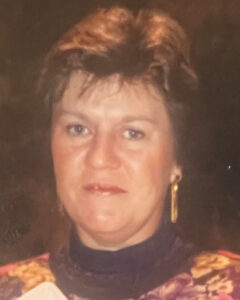 Patricia "Patty/Pat" Geraldeen Clark
Patricia "Patty/Pat" G.  (Johnston) Clark, age 77, passed away in Austin, MN on May 25, 2023, after a courageous battle with cancer. She was surrounded by loved ones and went peacefully.
Patty was born on July 16, 1945, to Francis and Anna (McConnell) Johnston in Sioux Falls, South Dakota. She had three older sisters, Bernice, Rosie, and Marge. She was a devout member of the Catholic Church. Pat graduated from Notre Dame High School in Mitchell, SD. She worked as a teen in a bakery and photo studio retouching photos, in Mitchell. Pat later worked at Gerard School and then for DHIA (Dairy Herds Testing Supervisor) before she retired.
On March 31, 1967, she married Rollie Clark, and had four children in that marriage. Pat enjoyed 20 years owning a lake home in Walker, MN, before moving back to Austin to be closer to family. She enjoyed many vacations, hiking, biking, gardening, baking, and spending time with loved ones. Throughout her adult life her and Rollie remodeled houses and sold them, learning everything on the whim.
Patricia was a kindhearted person, and all the kids and grandchildren could feel her strong love. She always gave the best advice and knew exactly how to problem solve anything life threw at her or anyone else in her family. She had the best sense of humor, and sometimes it was a little dark, which all the kids inherited. She didn't take life too seriously and always found a positive in everything.
She is survived by her husband, Rollie Clark; children, Andy (Teva) Clark of Apache Junction, AZ, William (Nicole) Clark of Lovettsville, VA, Callie Martell of Austin, MN, and Lindsay (Taylor Bowers) Clark of Austin, MN; grandchildren, Olivia, Gage, Chance, Zane, Jett, Jordan, Dylan, Draven, Dominic, Zander, and Celina; as well as one great-grandchild on the way; sisters, Bernice Daniel and Marge Murray; and best friend papillon, Marty.
She was preceded in death by her parents; grandparents; son-in-law, Paul Martell; sister, Rosie Solma; and best friend, Sherry Burmeister.
Thank you to Mayo Clinic Hospice for making sure she was pain free and giving her the emotional and spiritual support that she needed in this transition. A special thank you to Tara, Ana, Loren, and Emma, but really everyone was wonderful.
1947-2020
Susan Mills, a retired Loudoun County teacher and administrator, left her mark in many ways in Loudoun County. After a successful career in the public school system and after surviving breast cancer, she became an avid and passionate volunteer to help others. She helped establish the Loudoun Breast Health Network in 2007. She spent the last fourteen years raising funds to help breast cancer survivors who needed financial assistance. She served as both president and secretary of the organization and recruited many to join the group including high school groups who helped with the fundraising efforts. Her desire to help others continues through the organization with its mission to assist residents diagnosed with breast cancer through outreach and support.