Sponsor A Walk 4 Mountains Warrior Bag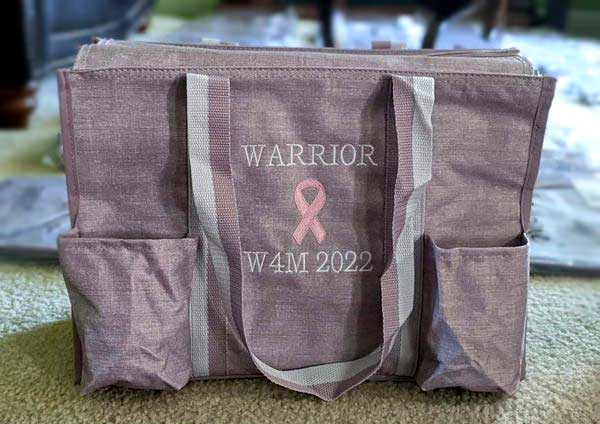 We are looking to purchase 60 Warrior Bags ahead of this year's event and would love your help. Each bag, with exclusive embroidery, will cost $48. Sponsorships can be sent via Venmo to @LizzyFontaine (last four: 9725) or I can contact you for payment.
With your help to sponsor all 60 bags, Lizzy Fountaine will also be donating 100% of her commission, which will be a $600 donation towards Walk 4 Mountains, which then divides up 100% of their profits between three local charities:
Step Sisters
https://stepsisters.org/
The Step Sisters fight breast cancer differently – by raising funds to provide practical support services for area patients as they battle the disease.
Loudoun Breast Health Network
https://www.lbhn.org/
LBHN's goal is to support and assist Loudoun County residents who have been diagnosed with breast cancer. LBHN's programs are designed to provide financial and emotional assistance to clients and their families.
Our Perfect Warrior Foundation
https://ourperfectwarrior.org/
Our Perfect Warrior Foundation will help with day-to-day household needs such as house cleaning, yard work, meals/groceries, payment of bills, and transportation costs as well as provide care packages.
With your sponsorship of just $48, you will allow us to present a Warrior with this special gift at the Walk 4 Mountains event this fall.